Autofox Helps: Harley-Davidson Foundation donated USD 50,000 to United Way Worldwide's United for Ukraine Fund
In addition, Harley-Davidson released limited edition T-shirt to benefit humanitarian relief efforts for Ukraine. Price of H-D for Ukraine tee designed by employees...
May 2, 2022 | 10:40pm CET
public
---
Harley-Davidson® Releases Limited Edition Tee to Benefit Humanitarian Relief Efforts for Ukraine with United Way

MILWAUKEE, WI (APRIL 4, 2022) – Harley-Davidson® releases H-D for Ukraine, a limited-edition tee in collaboration with United Way Worldwide to benefit humanitarian relief efforts for Ukraine. For each tee sold through June 15, 2022, USD$26 will benefit United Way Worldwide's United for Ukraine Fund, which is providing assistance in the form of transportation, shelter, food, medicine and critical childcare supplies to support those in crisis. In addition, the Harley-Davidson Foundation has donated $50,000 to the United for Ukraine Fund.

This program was conceived by Harley-Davidson employees who wanted to find a way to give back and show support for relief efforts for Ukraine. The tee was designed by employees and features the colors of the Ukrainian flag across the iconic Harley-Davidson logo on the chest. On back of the tee, UNITED WE RIDE is featured and epitomizes the spirit of Harley-Davidson, rallying together to help when needed.

The H-D for Ukraine Tee will be available on Harley-Davidson.com beginning today.

About Harley-Davidson
Harley-Davidson, Inc. is the parent company of Harley-Davidson Motor Company and Harley-Davidson Financial Services. Our vision: Building our legend and leading our industry through innovation, evolution and emotion. Our mission: More than building machines, we stand for the timeless pursuit of adventure. Freedom for the soul. Since 1903, Harley-Davidson has defined motorcycle culture with an expanding range of leading-edge, distinctive and customizable motorcycles in addition to riding experiences and exceptional motorcycle accessories, riding gear and apparel. Harley-Davidson Financial Services provides financing, insurance and other programs to help get Harley-Davidson riders on the road. Learn more at www.harley-davidson.com.

About United Way
United Way fights for the health, education, and financial stability of every person in every community. With global reach and local impact, we're making life better for 48 million people annually. United Way is the world's largest privately funded nonprofit, working in 95% of U.S. communities and 40 countries and territories. That's why we're the mission of choice for 2.5 million volunteers, 7.7 million donors and 45,000 corporate partners. In the wake of COVID-19, we're helping people stay in their homes, stock their pantries, and protect their lives and livelihoods. And we're working to build resilient, equitable communities. Learn more at UnitedWay.org. Follow us: @United Way and #LiveUnited.

---

Note: This report was published as part of Autofox Helps program and Corporate Social Responsibility (CSR) activities, currently to help mitigate the effects of the war in Ukraine.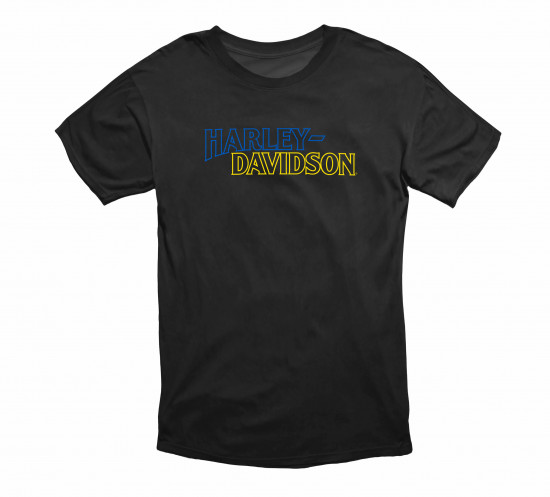 H-D for Ukraine T-shirt (author: Harley-Davidson)
Public news labeled "public" has not been edited.
If necessary, contact us at .
Day, Week
Month, Year
Interval
cancel
2013
2014
2015
2016
2017
2018
2019
2020
2021
2022
2023
I
II
III
IV
V
VI
VII
VIII
IX
X
XI
XII